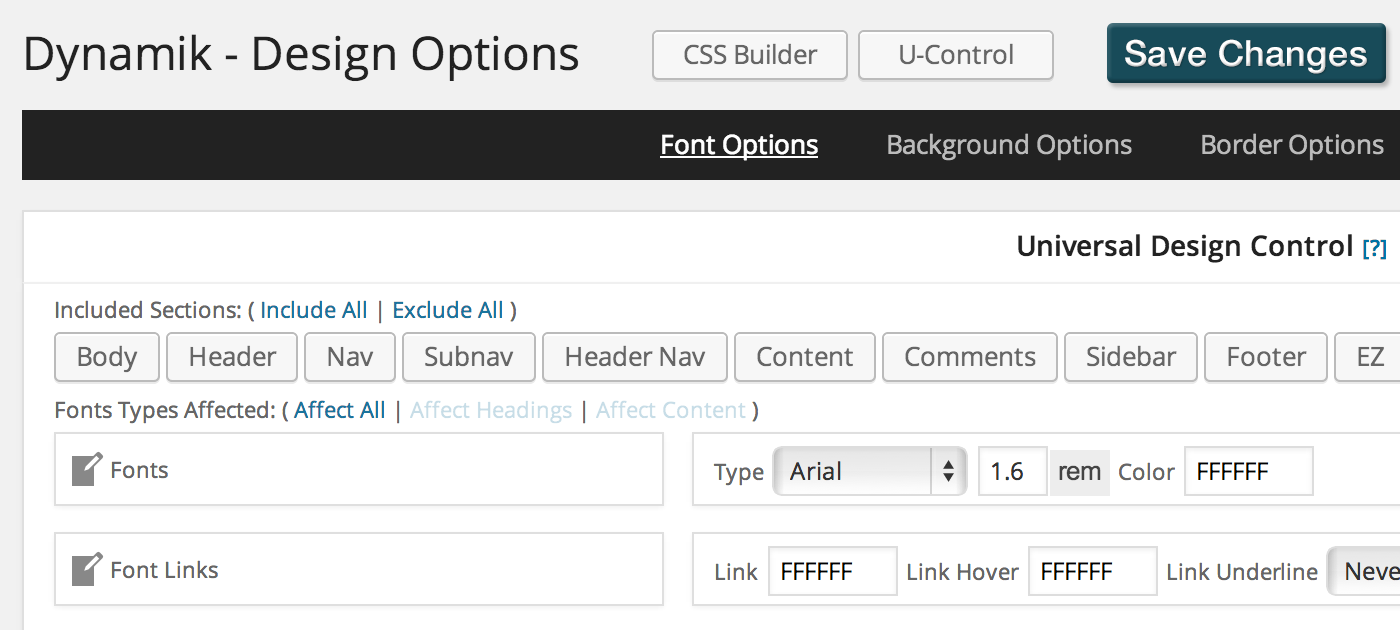 With one of the biggest updates in quite some time (especially for Dynamik) I'm excited to finally release and share with our community these notable Cobalt Apps product updates!
First, before I touch on a few points I wanted to make it clear that for those wanting to cut to the chase and see all the new changes to Dynamik and/or Genesis Extender you can scroll to the bottom of this post and click on the appropriate changelog links. Also, the screencast just above those links will walk you through the main points of those lists.
Some Of The Updates Shared By Both Products
The notable tweaks shared by both Dynamik and Extender are as follows:
Fully Responsive Admin Interface: WordPress 3.8 brought us a fully responsive WP Dashboard. And now

Dynamik

1.5 and Genesis Extender 1.4 brings us a fully responsive admin interface, allowing for back-end tweaking through all kinds of devices and browser sizes.
Custom CSS, Functions and

Javascript

Syntax Highlighting and Line Numbering: Now you're not only able to custom code your theme through your Dashboard, but you can enjoy the feel of a basic code editor in the process. Note that the Custom Options that get this new feature are your Custom CSS, Custom Functions and Custom

Javascript

sections only.
Custom Options "Search" Feature: Now you can more easily and efficiently find and view your various Custom Templates, Labels, Conditionals, Widget Areas and Hook Boxes simply by typing the name of the customization in question.
Custom Widget Areas and Hook Boxes Refined: Because of some previous limitations you were only able to use lowercase letters and underscores when naming your Custom Widget Areas and Hook Boxes. Now you can use uppercase letters and spaces as well, meaning you can finally give your Custom Widget Areas a proper name. 🙂 Also, a new Widget Area "Description" option was added so you can finally provide your clients with properly named and "described" Widget Areas to work with.
[?]

Tooltips

Were Moved Out Of The Admin: Our email support solution,

HelpScout

, recently released an awesome new knowledge base app that perfectly integrates with their email support system. So we jumped at the chance to move away from the Desk.com solution we've been using which we were never very pleased with. So we've since moved everything over to the new

HelpScout

powered knowledge bases, including all the [?]

Tooltips

found in both

Dynamik

and Extender. So now when you click on a [?]Tooltip in either product it opens a new tab displaying the appropriate knowledge base article. This is preferable because it not only cleans out a lot of extra source code bloat on the backend, but it allows us to update

tooltips

without having to update the product and as you'll find, it gives us much more freedom to add screenshots,

screencasts

and all kinds of extra content that was not really plausible with our previous tooltip implementation.
Other Odds & Ends: For a complete list of all the changes made in both products please scroll to the bottom of this post and click the appropriate link to read the

changelogs

.
Dynamik-Specific

Updates

Two of the most notable updates are found exclusively in Dynamik and they are…
Universal Design Control: Ironically a bit of an afterthought that came into being toward the end of 1.5 development, this new Universal Design Control feature is sure to be one of the favorite new tools of our

Dynamik

users. It not only allows you to organize your

Dynamik

Design Options in a unique way, honing the option types and sections down to the specific toggles you want to tweak, but it gives you a powerful set of Universal Design Options that can make mass changes a much more efficient task to tackle. See it in action HERE.
"Add Google Fonts" Option: This has been a desired update for quite some time and it's finally here. Now you are no longer restricted by the 154 pre-loaded Google Fonts found in pre-1.5 versions of

Dynamik

, but instead the sky's the limit. Now you can easily add any number of the 630+ Google fonts to your

Dynamik

Design Options, making them available in the many Font Type options found on that

Dynamik

admin page. See it in action HERE.
Not Just New Features
There are certainly some notable new features to talk about with these updates, but I also wanted to mention the fact that refinements and fixes played a big role in furthering the solid foundation of these products. I wanted to take full advantage of the opportunity here to do more than just add new stuff. So as I worked with both Dynamik and Extender I was able to resolve several past app-annoyances by refining some areas and fixing others. But again, to see all the details as to what refinements and fixes were implemented be sure to read the changelogs.
New Cobalt Apps Knowledge Bases
As mentioned above we moved away from the Desk.com knowledge base solution and went with the new offering from our favorite email support system, HelpScout. Included in these knowledge bases are the bits moved over from Desk.com, all the tooltips for both products, as well as several new articles. We'll be adding more as time goes on, especially now that we're working with a more solid and integrated solution (integrated with our email support, that is).
The New Dynamik Knowledge Base
The New Genesis Extender Knowledge Base
See It In Action!
Dynamik Website Builder 1.5 Changelog
Genesis Extender Plugin 1.4 Changelog
We're super excited to release these two new versions of Dynamik and Extender and hope you enjoy all our hard work! Now back to my code editor… 🙂
~ Eric Hamm
Follow & Share: