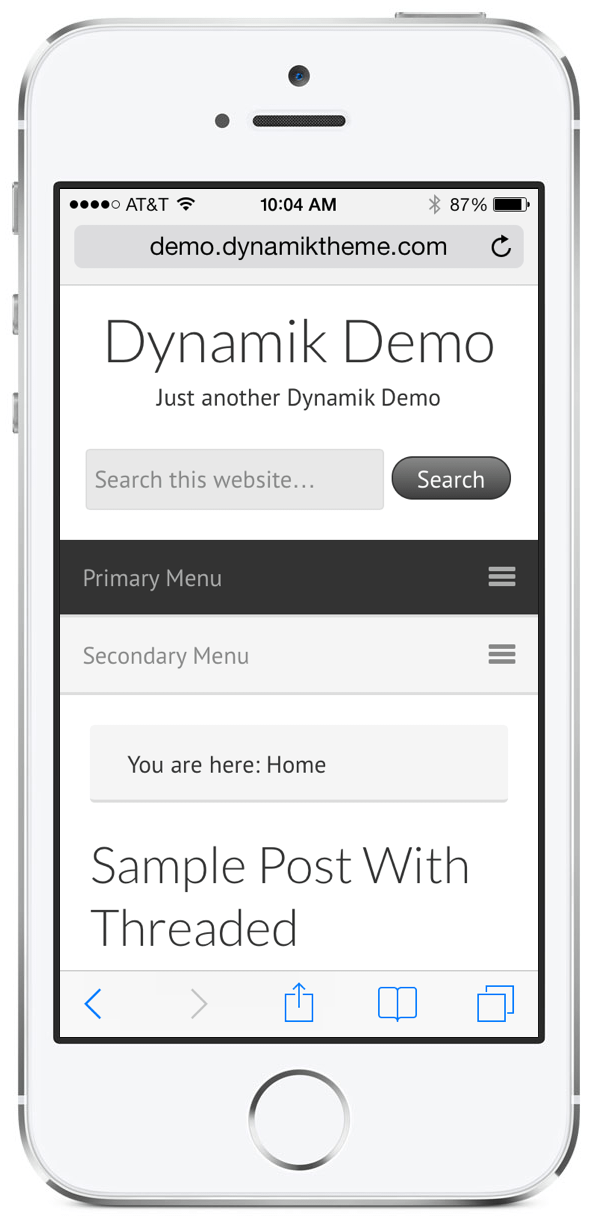 The Dynamik Website Builder and Genesis Extender 1.2 update was all about the Custom Options, providing several new powerful tools to display your content and structure your pages and posts. But Dynamik 1.3 is ALL about design, both in the "defaults" department as well as the way it responds to tablets and mobile phones.
Our main emphasis with 1.3 was to not only completely redesign the default styles of Dynamik (check out the updated Dynamik Demo Site), but to refine and enhance both the options that already existed as well as add any necessary options to bring it all together. Previous features like the various mobile menus have been completely reinvented to provide the best possible experience for both the developer as well as the site visitor. And a few new design options have also found their way into Dynamik to provide the end-user with an even more complete package to build their latest custom WordPress websites.
If you'd like to play around with the updated Dynamik Demo site in terms of viewing on various devices you can check it out on the Screenfly tool found over at QuirkTools.com.
To see all the changes made in Dynamik be sure to check out the Dynamik Website Builder 1.3 Changelog. And to see it all in action be sure to watch the screencast below as I walk you through the most notable enhancements found in this latest and greatest release of Dynamik.
To update your current Dynamik sites to 1.3 just run the auto-update through your WordPress Dashboard. And to download the Dynamik 1.3 zip file just log into your "My Account" page where you'll find both 1.3 as well as the "Dynamik Classic Skin", in case you ever need to utilize the previous Dynamik design for a future web design project.
We're super excited about this new release of Dynamik and hope you find it to be a welcome refinement to an already highly polished piece of WordPress software.
Follow & Share: