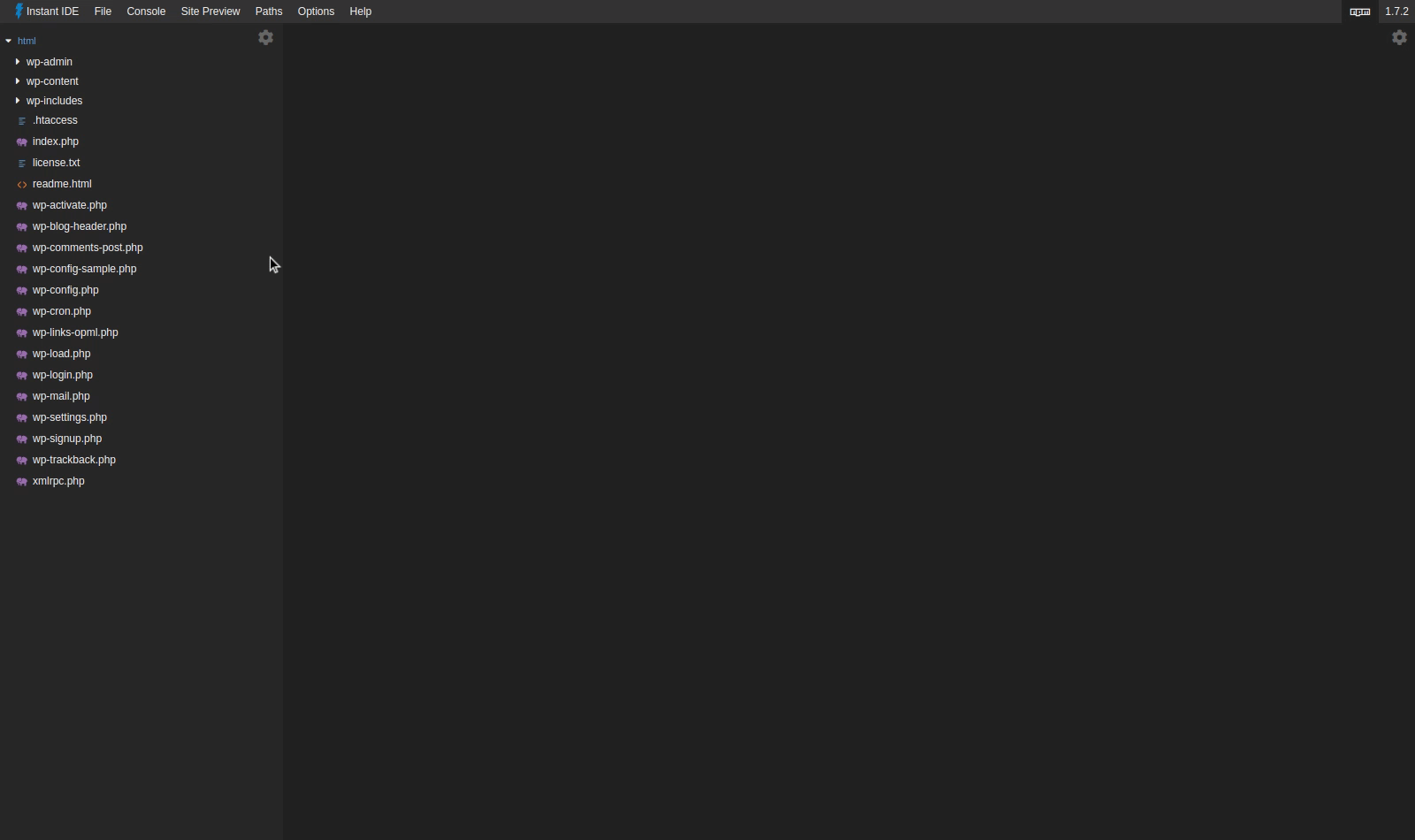 Instant </IDE>
The Ultimate WordPress </DEV> Environment
The Right Tool For The Job
Instant IDE provides you with a powerful file manager and editor, along with the essential tools necessary for professional WordPress site and software development.
---
Take full control of your WordPress installation…files, folders, and so much more!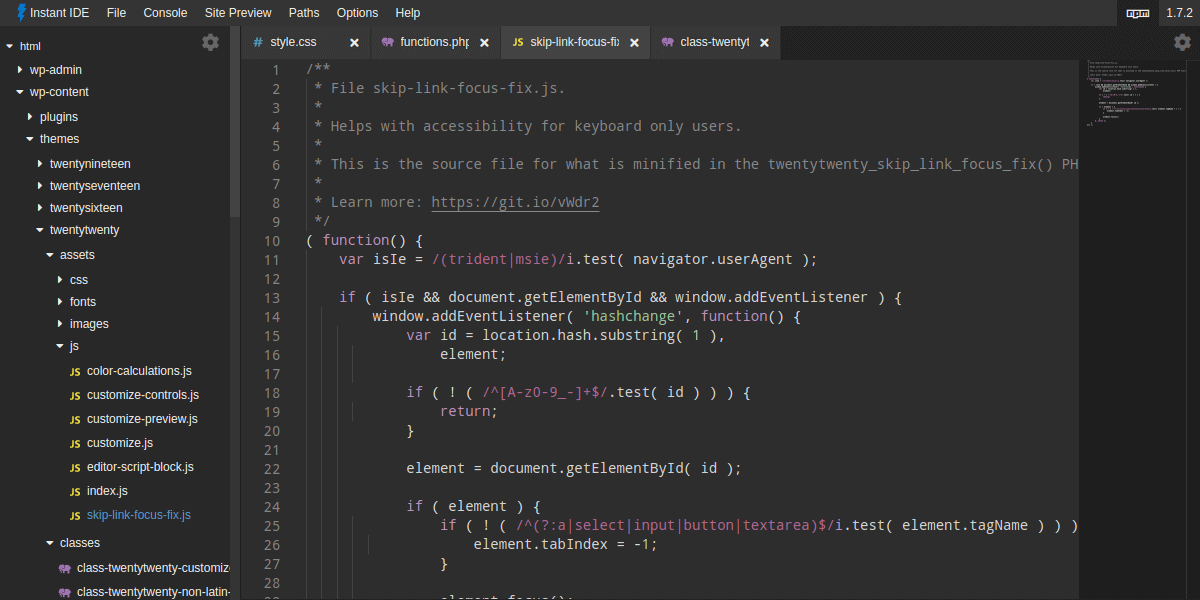 ---
All the bells & whistles are there to help you take charge of your server folders.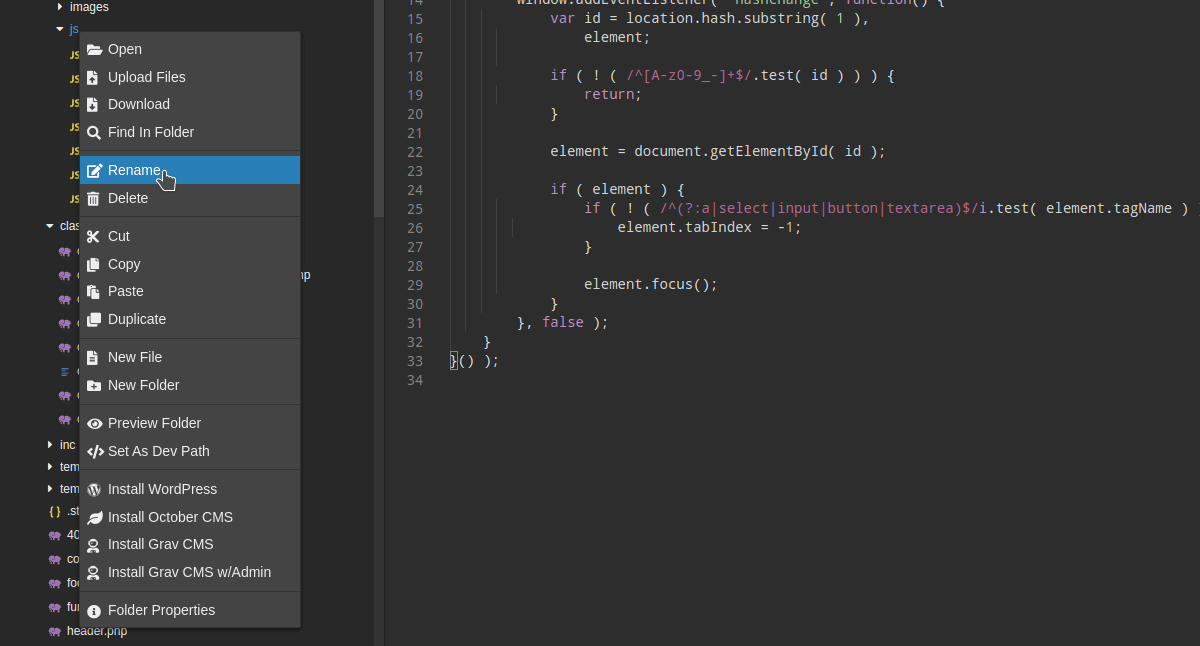 ---
Both basic and advanced file management tools are just a right-click away.

---
Manage your tabs with ease and even split them into two columns when needed.

---
With the Split View feature you can easily split your editor into two columns.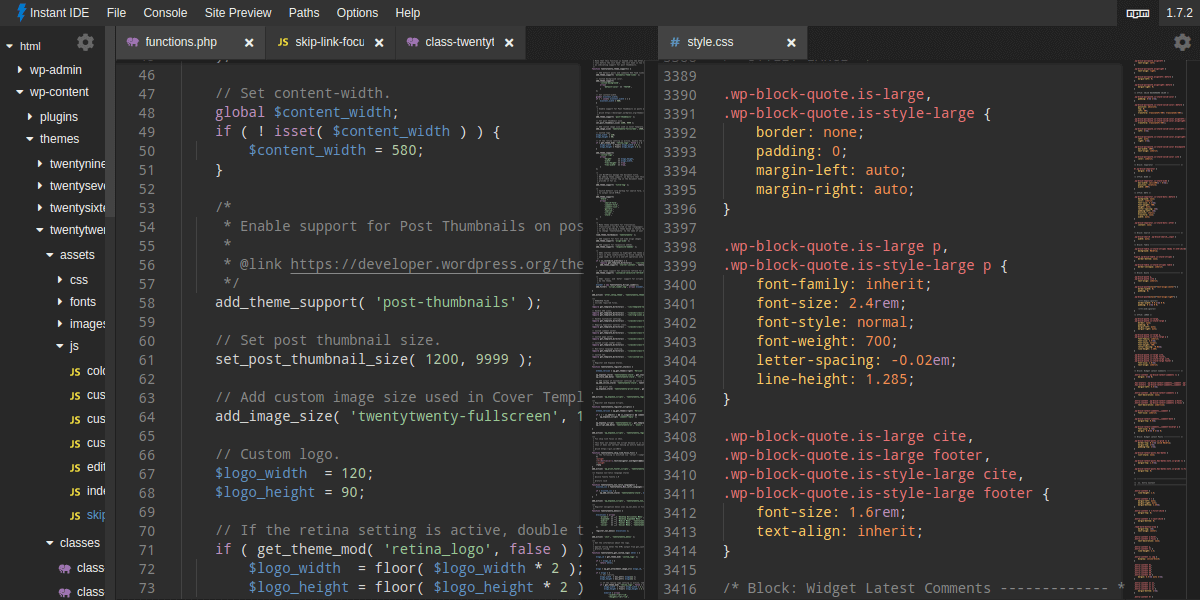 ---
Quickly and easily search a file for specific text and replace when needed.

---
This is the ultimate find 'n replace tool for entire folders. Trust me, this feature is a HUGE time saver!

---
A simple server terminal that makes things like interacting with git repositories a breeze.

---
Preview your site on different device sizes as you intuitively edit your code.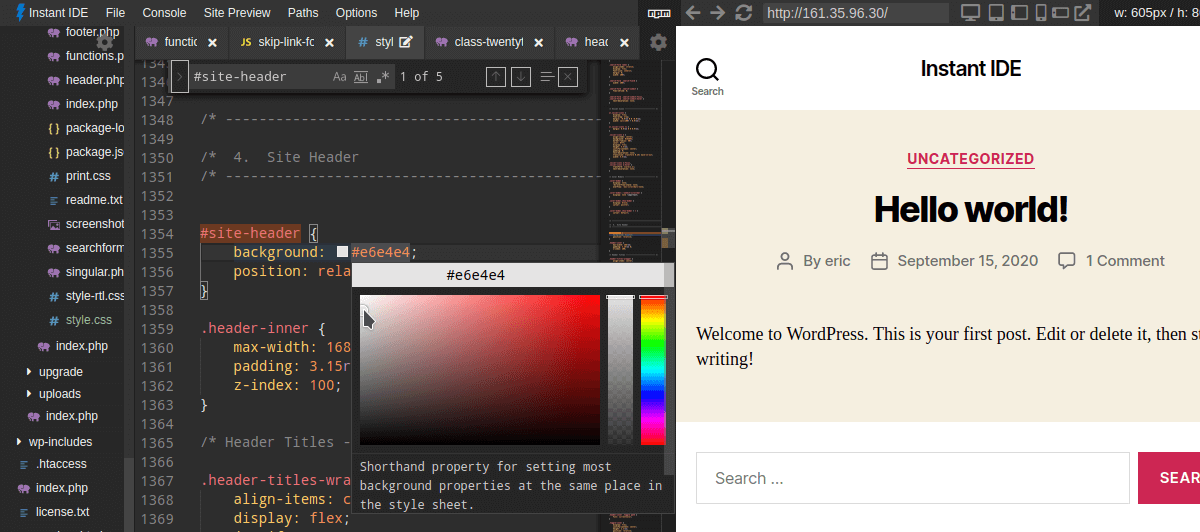 ---
No need for complicated server configurations. Instant IDE can compile your styles on the fly!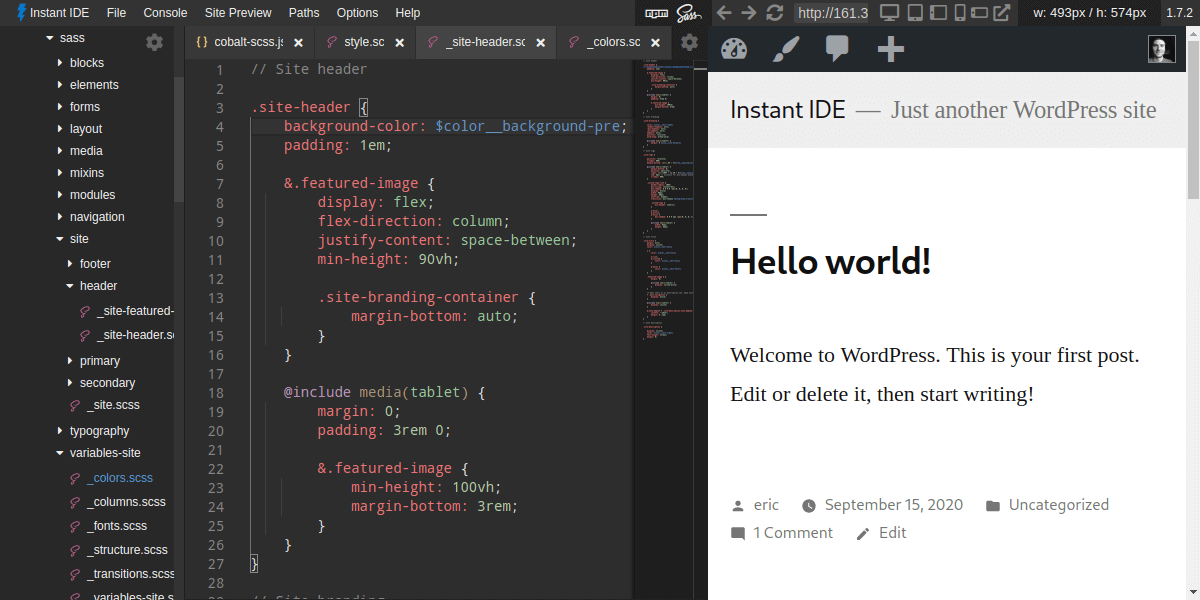 ---
Open up Instant IDE in any browser and on any computer and pick up where you left off.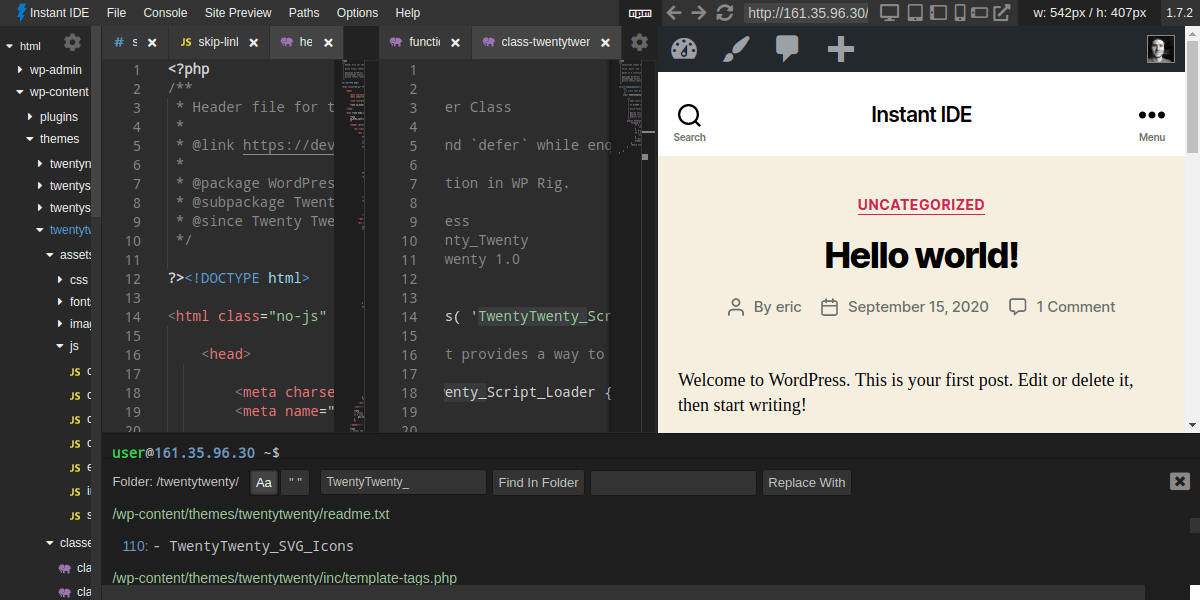 ---
Go light or dark and choose from different editor themes, creating a custom IDE experience.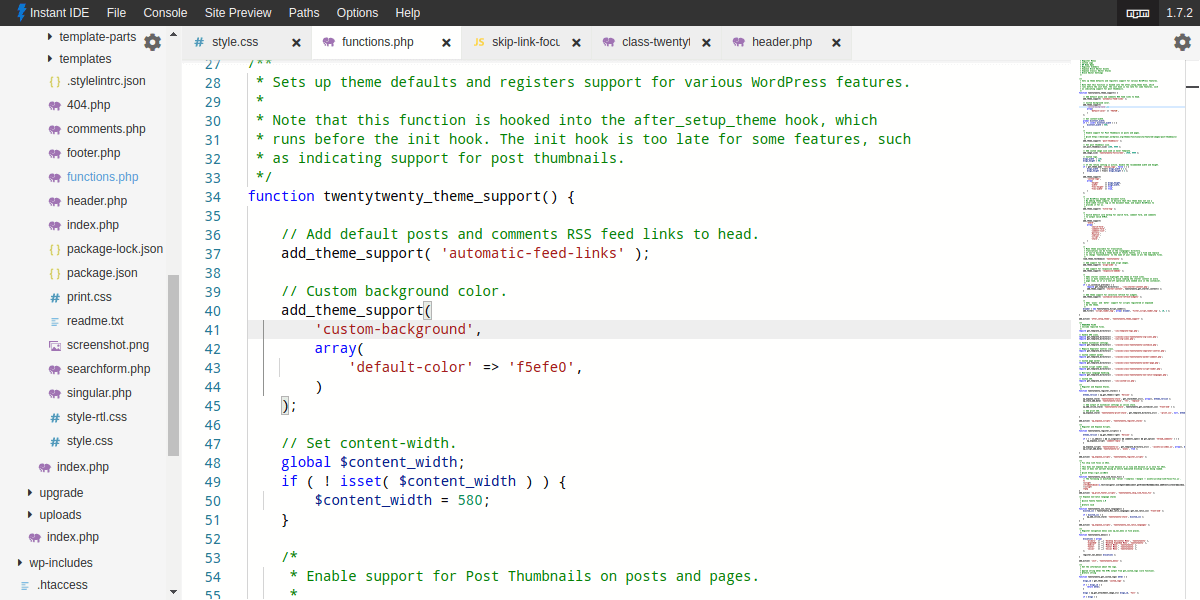 ---
Change from Monaco to Ace Editor or tweak your Editor font size. Take control of your IDE.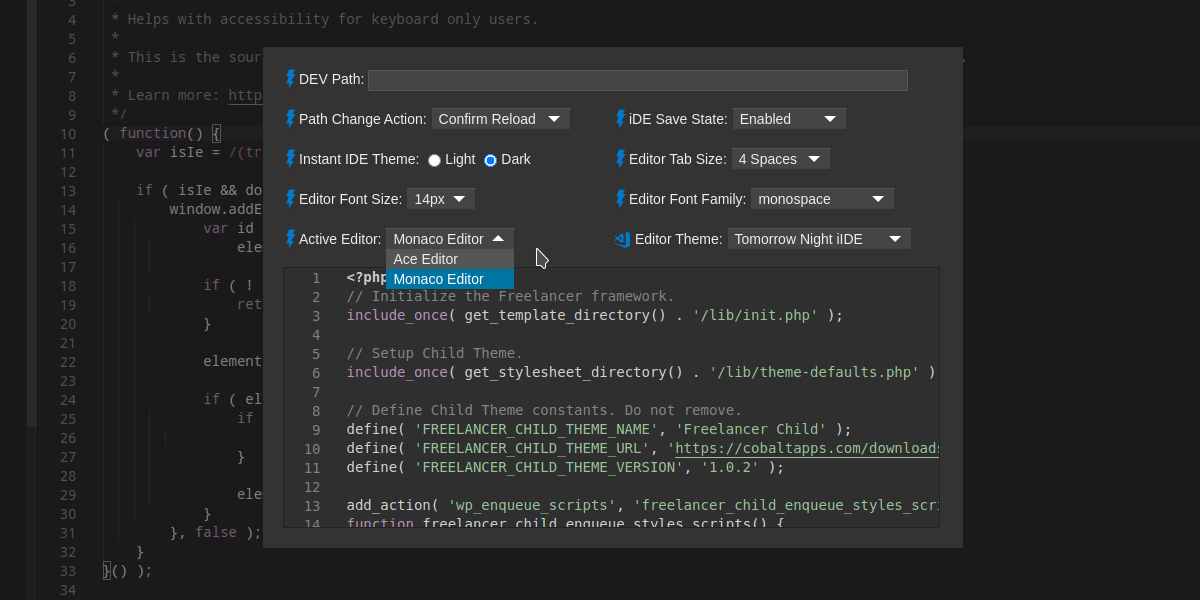 ---
The Instant IDE Manger WP Plugin allows you to easily install, update, and remove Instant IDE.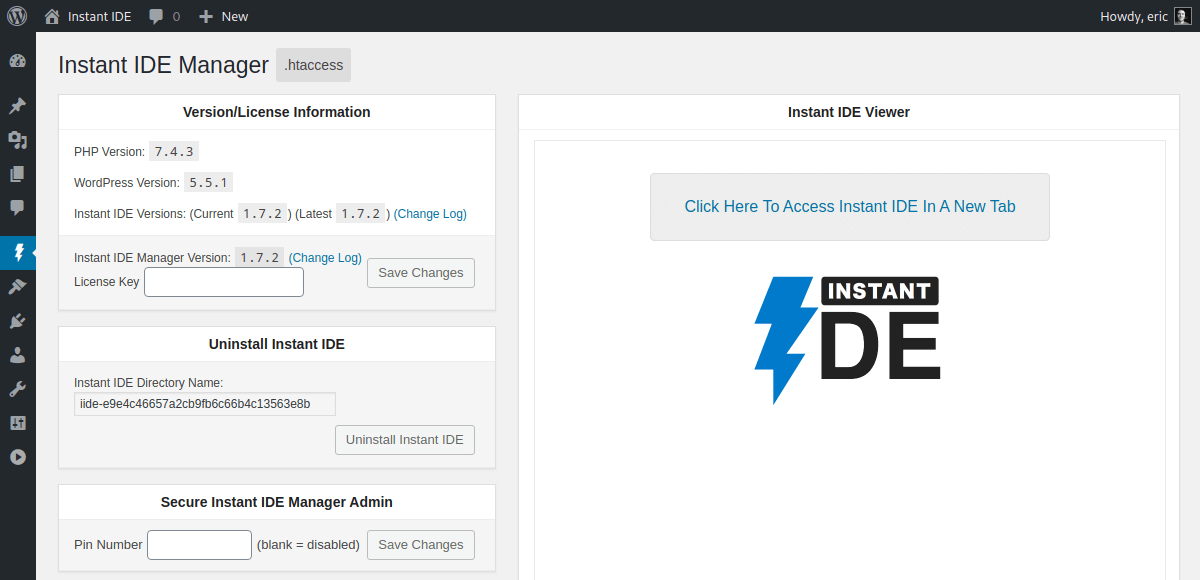 ---
Instant IDE is standalone website and web application DEV environment that is perfectly suited for both intermediate and professional WordPress development. Combined with the Instant IDE Manager Plugin that makes installing, updating, and removing iIDE effortless, WordPress power users and freelancers will find this unique piece of web building software invaluable. Instant IDE puts in complete control.
See Instant IDE In Action!
See Instant IDE Manager In Action!
Get Instant IDE Now!
Instant IDE Plugin
1 Year of Support & Updates
Yearly Subscription
Activate Unlimited Sites!
Instant IDE Manager Plugin Included
Instant IDE Lifetime
Lifetime Support & Updates
One-Time Purchase
Activate Unlimited Sites!
Instant IDE Manager Plugin Included
About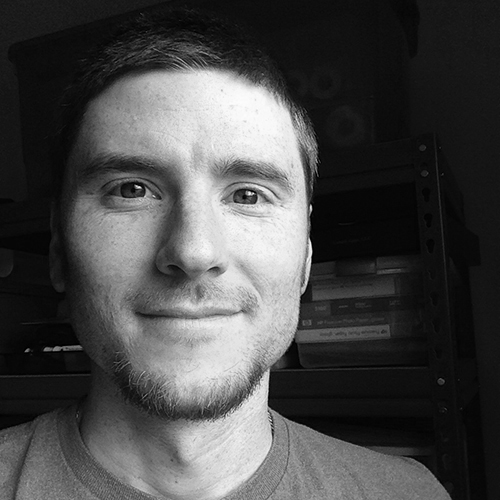 The Instant IDE Plugin is a Premium WordPress DEV Tool that is developed, sold, supported, and updated by yours truly. I've been in the WordPress software game for over a decade now and thoroughly enjoy meeting the unique needs of the Freelance WordPress Web Designer and Developer.
With Instant IDE I am able to offer a development environment that is so robust and well suited for the WordPress web designer and developer that once you start using it you will wonder how you ever managed your web projects without it.